Q&A » Frequently Asked Questions » Amazon »
Contacting Amazon Author Central
Added by Brian Schwartz about 5 years ago
There will likely be times when you need to contact Author Central at Amazon.
Yes, in fact, you can talk to a live human being at Amazon whose job it is to fix issues with your titles (whether or not you the publisher).
For example, if you have a new edition of a book and you want Amazon to point people who find an old edition to the new edition:
If you've worked with us, let's assume you already have an Author Central account.
If not, you can create one here.
If there's an issue with your Author page or book listing on Amazon, there is a support team at Amazon available to assist you. Believe it or not, you can actually talk to a real human being! They can help you resolve a lot of common problems. Look for the Contact Us tab somewhat hidden at the very bottom of the screen after you login: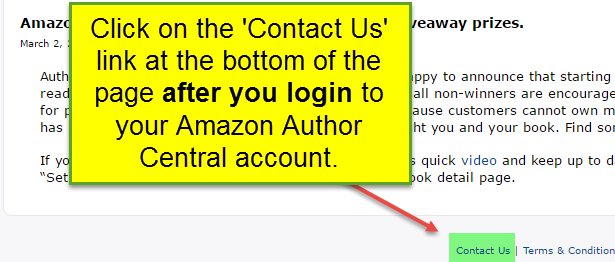 It's a good idea to check your own listings now and then (and your Author page) to ensure nothing has gone astray. The reps at Amazon Author Central are essentially evangelists for authors... so if something doesn't look correct, they'll know.
Just keep in mind that not all reps are on their 'A' team. You may need to call back until you find one that is.
~Brian