Q&A » Frequently Asked Questions » Print-on-Demand »
Transferring a title from KDP to IngramSpark
Added by Brian Schwartz over 3 years ago
New Process effective as of Nov-2021¶
There is a much simpler process to transfer a title to your own IngramSpark account, assuming you meet all the qualifications. Simply go to https://www.ingramspark.com/lp/title-transfer and complete the form: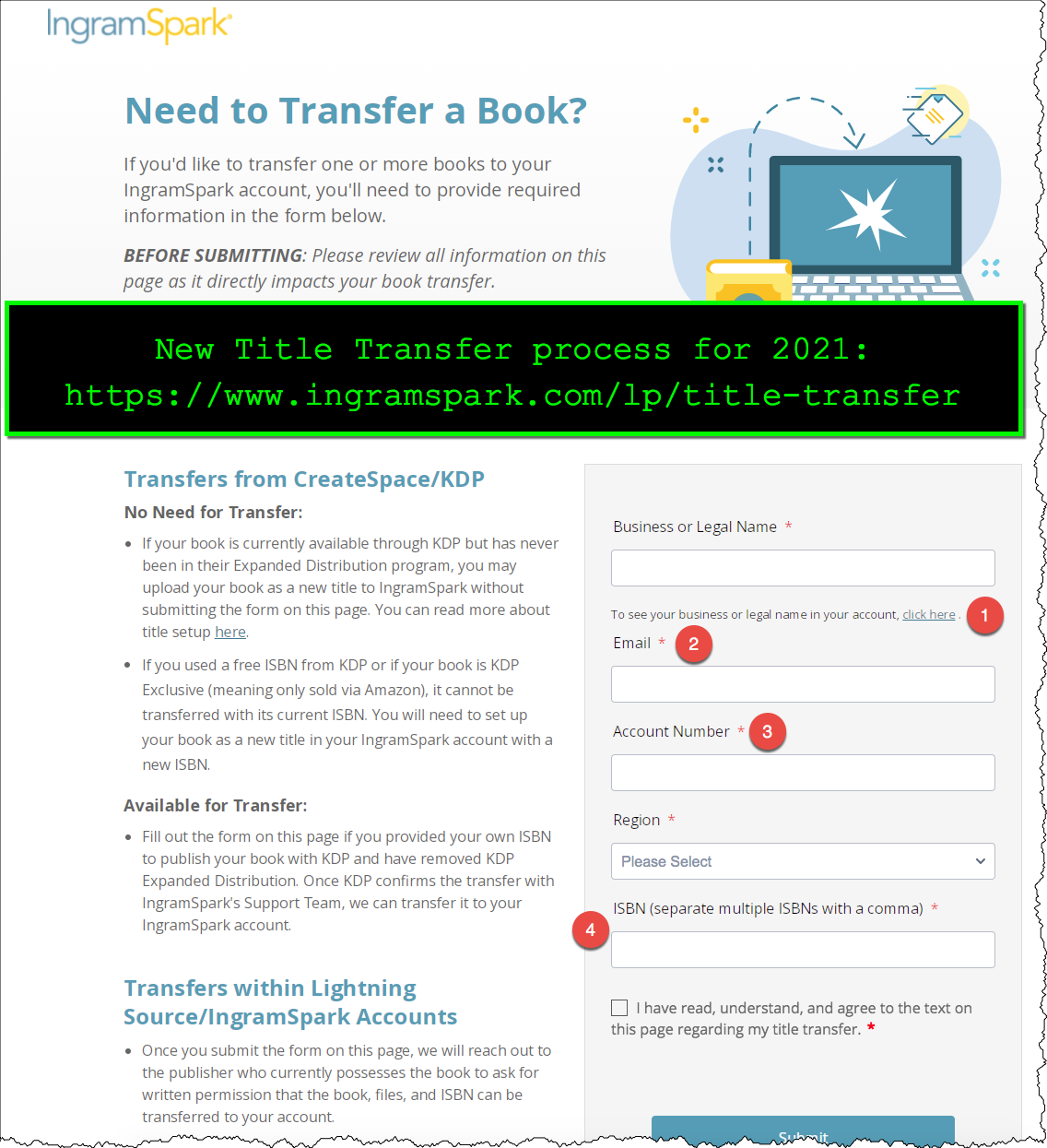 For items 1-3, you need to be sure it matches your IngramSpark account exactly. You can find this on your IngramSpark account information page.
For item 4, you need the ISBN. Put it in without any dashes.
After you submit the form, assuming the transfer request is for a title you originally setup on KDP, you will need to respond to the email that will arrive from KDP support (usually within a few days):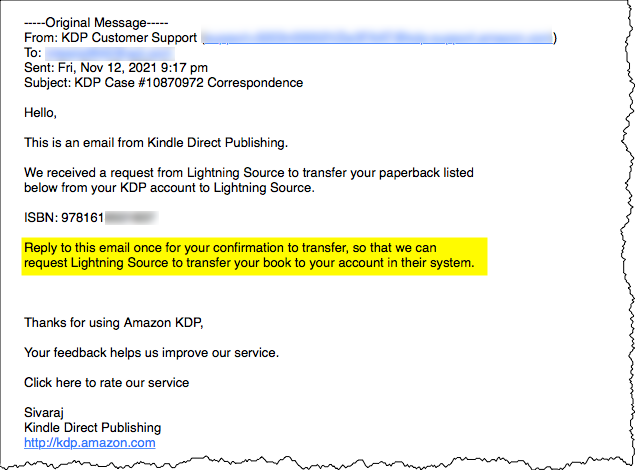 The response MUST come from the email KDP sends that email to (and we can't do this for you).
Once you respond that you in fact did make the transfer request, they will give IngramSpark/Lightning Source authorization to transfer the title to your account. This can take a couple of weeks to complete (and IngramSpark asks for up to 30 days).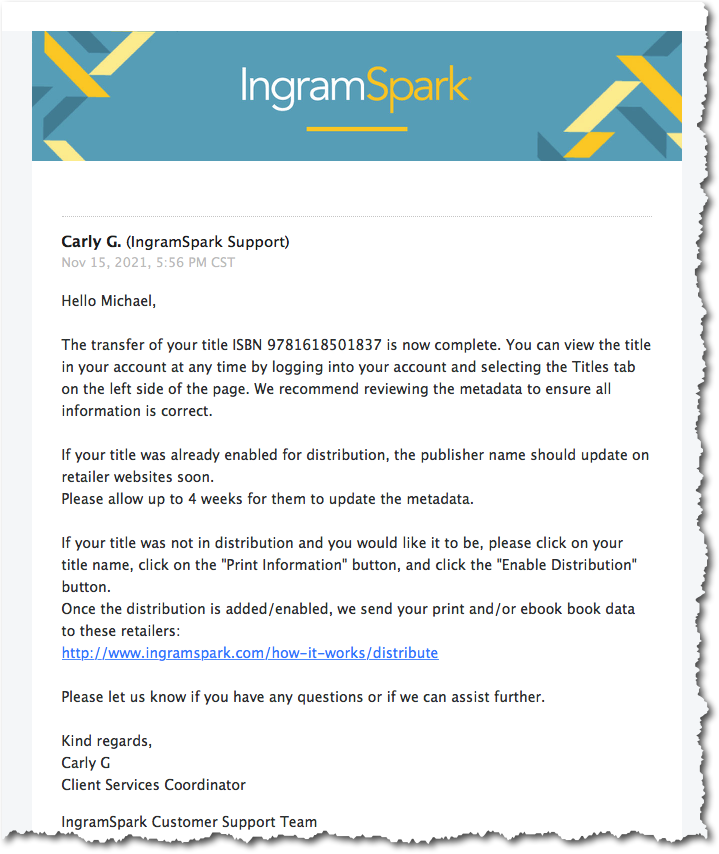 You will get confirmation from IngramSpark via email once the transfer is complete and the title will appear your list of titles.
Once the title is in your account, you should update the Print info (Pricing) to add it to all geos, set return & destroy, and set a discount of at least 50%.
This is how it will likely appear after it's transferred from KDP (and explains WHY you probably were not selling any books):

This is how retailers expect to see it (allow returns, and know that it's not likely to happen too often):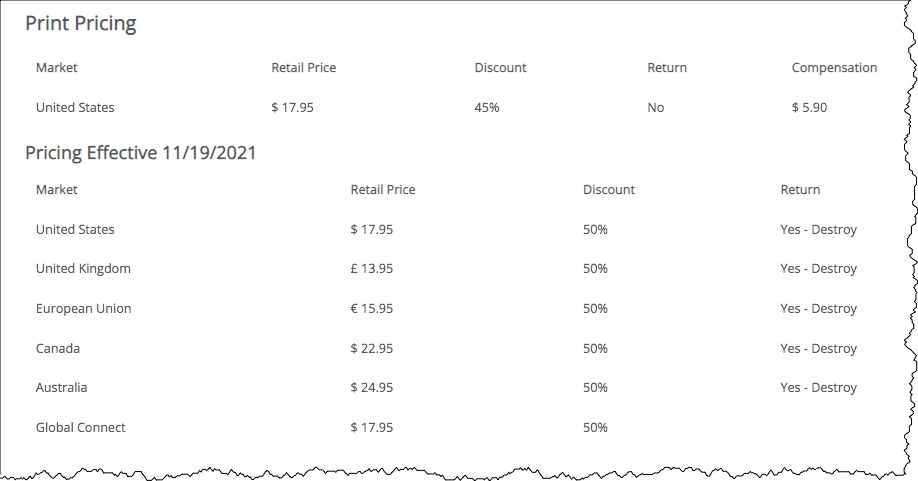 ---
(updated 10/2/21)
A common problem during title setup at IngramSpark is this error:

This usually only happens if you select the 'Expanded Distribution' option at KDP which I never recommend (which I explain in more detail here.
If this occurs, you will need to follow a Title Transfer procedure to move the ISBN from the current account holder (KDP) to your account.
Please note: If you acquired a free ISBN from KDP, then it is not eligible for transfer to your account and you'll have to use a new ISBN. I explain more about ISBNs here.
The first step is to remove your title from expanded distribution (from your KDP bookshelf):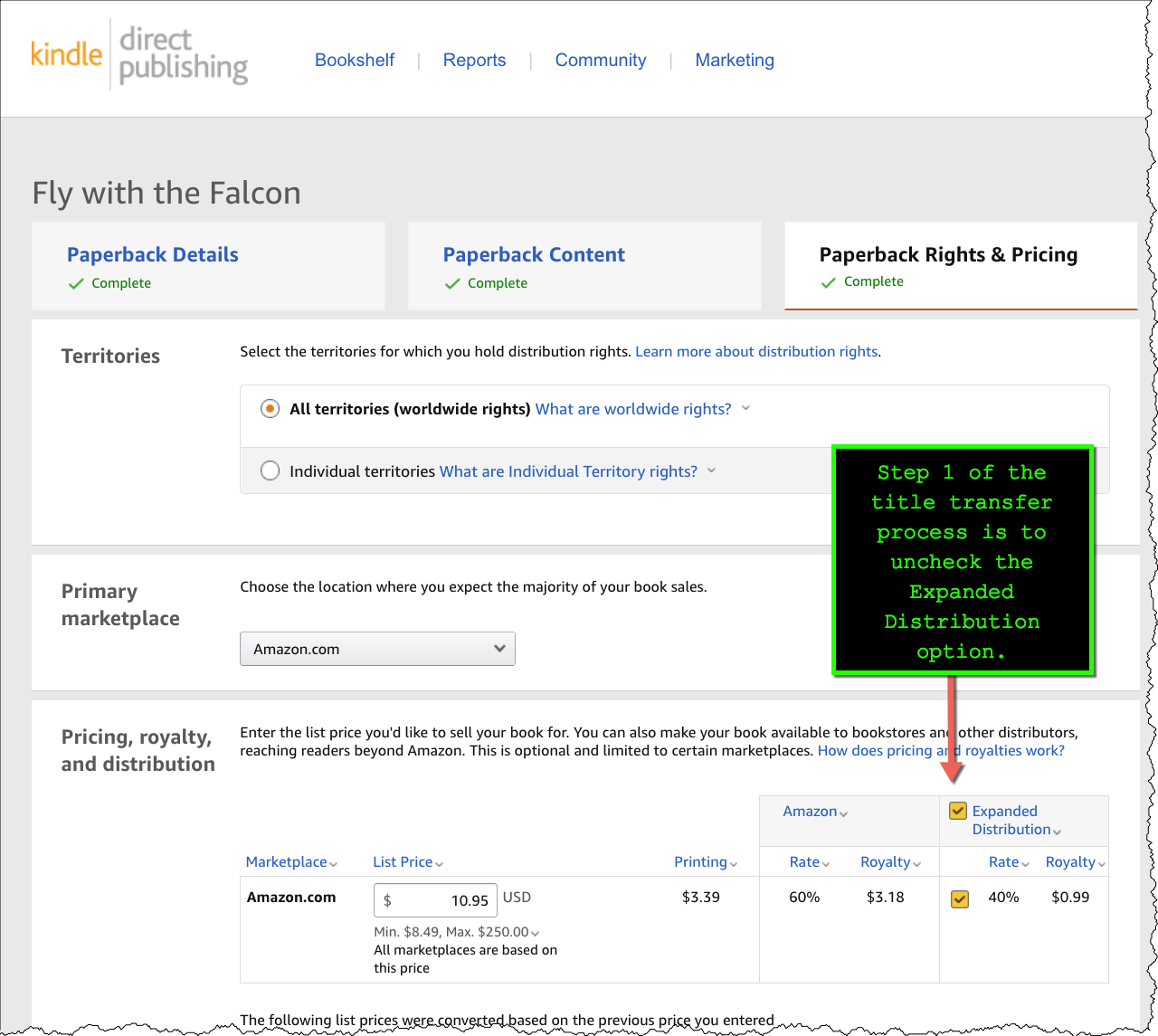 After you have done this, you will need to complete the steps above to transfer the title to your account.
Here are some additional notes from Ingram:
If CreateSpace or KDP owns the ISBN or if it is CreateSpace or KDP exclusive, it cannot be transferred.
If the author or publisher owns the ISBN, the files and ISBN can be transferred to the author or publisher's account once Expanded Distribution is removed and KDP confirms with IngramSpark support the transfer can be completed.
If the title has never been in Expanded Distribution, it can be set up as a new title on the IngramSpark account without having to go through the title transfer process.
The account receiving the transfer of the title, ISBN and files must be fully active, i.e., all account set up tasks listed on the Dashboard must be completed.
As of 11/18/21: I'm trying to confirm whether or not removing a title from expanded distribution is actually still required.