Q&A » Author Pages »
Understanding Plato by Laurence D. Houlgate
Added by Brian Schwartz over 7 years ago
Metadata¶
Now available on Amazon: http://amzn.to/29N55r5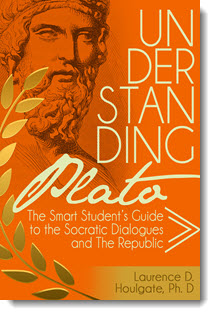 Title¶
Understanding Plato
Subtitle¶
The Smart Student's Guide to the Socratic Dialogues and The Republic
Author¶
Laurence D. Houlgate
Two Categories¶
PHI046000 PHILOSOPHY / Individual Philosophers
PHI009000 PHILOSOPHY / History & Surveys / General
7 Keywords¶
Plato, Socrates, Philosophy, Republic, Meno, Ethics, Ancient Greek Philosophy
eBook Price¶
2.99
Print Price (if applicable)¶
$12.99
Synopsis/Description¶
Understanding Plato introduces beginning philosophy students to the nature of philosophy and philosophical method by providing a clear description and analysis of four of the Socratic dialogues (Euthyphro, Apology, Crito, Meno), and Plato's Republic. This book is a "companion" in the sense that students can consult it for commentary and guidance while reading the original classic works.
Understanding Plato is the first in a series of companion volumes offering students both a summary and critical analysis of some of the classics of ethics and political philosophy. A forthcoming volume will be devoted to John Locke's Second Treatise of Government. The third volume will discuss John Stuart Mill's ethical theory in Utilitarianism and his discussion of the limits of state power over the individual in On Liberty. Chapters in all volumes in the series will conclude with a set of questions for thought and discussion.
Laurence Houlgate is Emeritus Professor of Philosophy at California Polytechnic State University in San Luis Obispo, California. He received M.A. and Ph.D. degrees in philosophy at the University of California, Los Angeles, and has previously held professorships at the University of California, Santa Barbara and George Mason University, Virginia. He has published many articles in legal and philosophical journals and is the author of The Child and the State; Family and State; and Morals, Marriage and Parenthood.